Tasha's Playground Fan Page

Find me on Facebook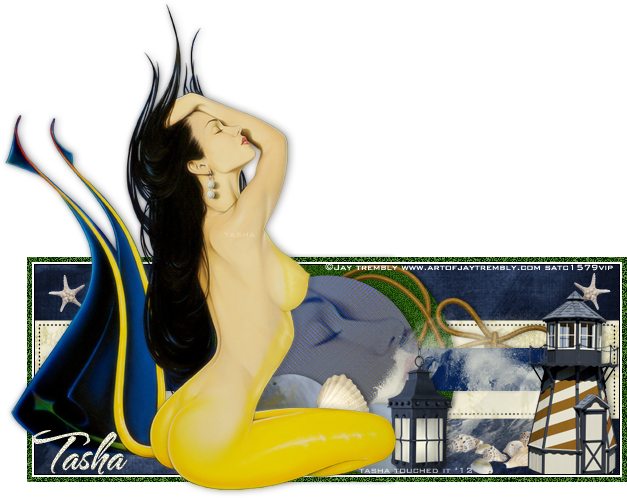 Kit- Sea Spray by A Taggers Scrap. You can find this awesome kit at SATC here.
Tube- Decent Descent by Jay Trembly. You can purchase this gorgeous tube at SATC here. You need a valid license to use this artwork.
Template-Temp126-Leah here
I'm on a Mac, so when I use Command you may need to use Ctrl
Open your template. Image>Duplicate. Close out original. Delete credit and splatter layers.
Place paper 16 above bg layer. Right click paper and Create Clipping Mask. This will shape the paper to your template layer.
Colorize circle 2 to #184400 or color of choice. Filter>Noise>Add Noise 15%. Add drop shadow.
Colorize rect 1 to #062151.
Colorize circle 1 to #062151. Filter>Brush strokes>Crosshatch-
Clip tube close up to circle. Change blend mode to Screen, Opacity 50%.
Colorize border 1 to #184400 and add noise at 50%.
Add tube of choice above border. Command+J to duplicate.
On top tube, Filter>Blur>Gaussian Blur 2px. Change blend mode to Screen, Opacity 50%.
Drop shadow bottom tube layer.
Add elements from the kit to your tag.
starfish- duplicate, reposition
Add drop shadows to all the elements except waves and starfish.
Image>Trim>Transparent Pixels to get rid of the extra space.
Image>Image Resize if needed.
Add tube license and copyright info.
Add name and any text of choice.
Thank you for trying my tut :o) If you have any questions or would like to show me your results, feel free to email me at bananas_68@yahoo.com, or contact me on Facebook (link on left of blog).