Tasha's Playground Fan Page

Find me on Facebook


Thursday, February 23, 2012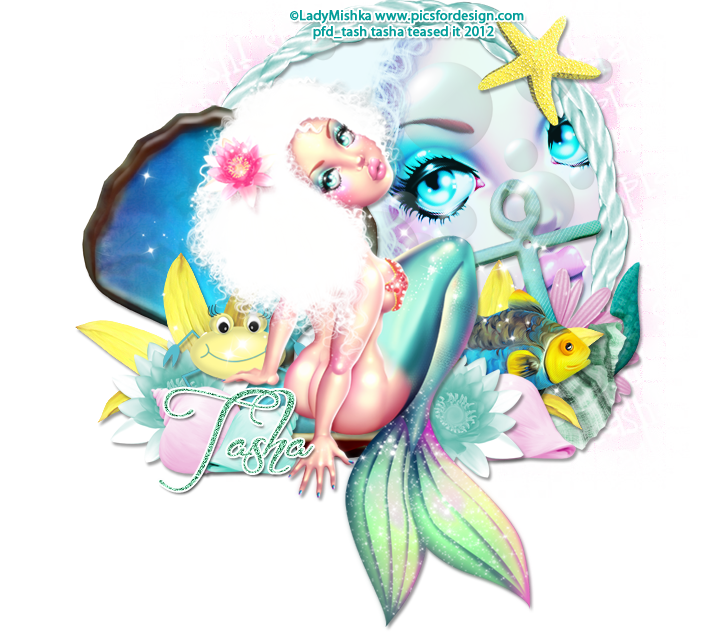 Tube- I'm using a tube by LadyMishka which you can pick up at PFD
Mask- mask1 by Leah at Amy&Leah's Gimptastic Tuts here
Photoshop CS5 or program of choice
(I use a Mac so when I say "Command" you may need to use "Ctrl")
Command+N to open a new image 700x700
Place Clamshell to left of frame
Sit your tube on the clamshell, duplicate tube
on duplicate layer change blend mode to Screen, Opacity 45%
Drop Shadow the original tube layer
Add some elements from the kit to your tag
Resize (Command+T, click chain link in tool bar to keep proportion), angle,
and drop shadow as needed
From bottom to top I used:
flower 3- duplicate, flip, reposition right above clamshell
shell 3- duplicate, flip, reposition
flower 2- duplicate, flip, reposition
Position your close up of tube under frame
Activate your magic wand tool and click inside frame
Select>Modify>Expand by 5
Add a new layer under tube close up
Flood fill with color or gradient, or use a paper from the kit
I picked a blue from the tube and filled the selection with that
Now Select>Inverse, activate close up tube layer, hit delete. Deselect
Open your mask, drag paper 5 to that canvas, below the mask layer
Make sure your mask layer is activated and Command+A to Select All
Then activate your paper layer, hit Q to enter Quick Mask mode
Command+V to paste mask on paper layer-it should now be tinted red
hit Q on the paper layer to exit Quick Mask mode.
You should now have marching ants outlining where your mask is laying on the paper
Click Add Layer Mask at the bottom of the layer palette
-it's the button that looks like a circle inside a rectangle
Now Right click and Convert to Smart Object
Then right click again and Rasterize Layer
Drag your mask to your tag canvas as the bottom layer
Now add your copyright and license info
Add name and any additional text
Merge, save as PNG and enjoy!!
Thank you for trying my tut. If you have any questions or would like to show me your results, feel free to email me- bananas_68@yahoo.com