Tasha's Playground Fan Page

Find me on Facebook


Wednesday, November 23, 2011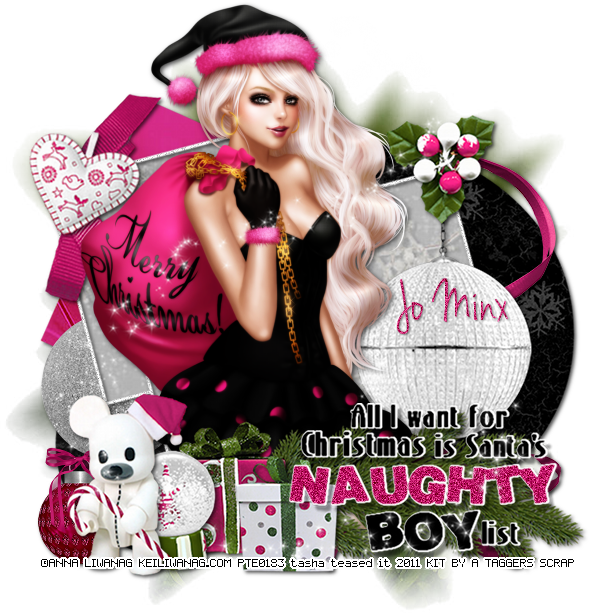 Kit- Bright & Beautiful Xmas by A Taggers Scrap here. Her kits are 50% off right now so make sure to take advantage of this great deal!!
Tube- I'm using the work of Anna Liwanag, available for purchase at PTE with a valid license
Mask- HorsePlay's Pasture mask 17 here
Template- Template 43 by Kandi Kissez here
Font- Jenna Sue, a FTU font here
GIMP or program of choice
Open your template. Ctrl+D to duplicate it, close out the original
I increased the canvas size to have room to work with.
Replace layers of the template with papers from the kit. To do this:
highlight template layer, right click>alpha to selection
open as layers paper of choice, right click>layer to image size (or you can scale the paper layer)
right click>add alpha channel
select>invert, hit delete on keyboard, deselect
delete original template layer
For this template I used:
bottom rectangle- paper 13
frames- add noise (filters>noise>rgb noise)
On the word are layer, I created a selection around the word "Naughty"
colors>colorize (332, 82, 20) and added noise
Add your tube of choice below the word art layers
filters>blur>gaussian blur at 3
drop shadow bottom tube layer
Now add elements from the kit to your tag. There's lots to choose from!
I used (from bottom to top)
add drop shadows as you see fit
add copyright and license info
Thank you for trying my tut!! If you have any questions, or would like to show me your results, feel free to email me: bananas_68@yahoo.com