Tasha's Playground Fan Page

Find me on Facebook


Monday, May 30, 2011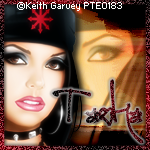 Tube of choice- You'll want a tube with close up. I chose Keith Garvey. You can find him at PTE. You must have a valid license to use this artwork.
Font- FFF Urban, Impact, First Lyrics
Plug Ins- Xero>radiance, Eye Candy Nature>Fire
Open a new canvas 650x250
c/p your close up onto canvas
Mura Meister Copies>wallpaper
adjust settings to your preference
change blend mode ot hard light. merge visible layers
Effects>art media effects>brush strokes:
Effects>Edge effects>enhance more
change blend mode to screen
c/p close up of tube onto canvas
duplicate and arrange to your preference
merge tube layers. duplicate
change blend mode to burn
On duplicate merged layer:
change blend mode to hard light
xero>radiance. default settings, but lower beauty to around 100
duplicate main tube layer
adjust>blur>gaussian blur 3
change blend mode to screen, opacity 68
drop shadow original tube layer
select your rectangle tool.
foreground color X'd out, background color white
create a rectangle near middle of canvas
lower opacity to around 40
add text of choice. add drop shadow (1, 1, 75, 5)
Now repeat those words with your Impact font
stretch words across canvas
change blend mode to overlay
opacity at 68. add drop shadow (1, 1, 35, 10)
Highlight your background layer
selections>select all>float>defloat
selections>modify>select selection borders:
Inside, 6, anti-alias checked
add new layer, flood fill with black, move to top
selections>modify>contract by 2
add new layer. Flood fill with color of choice
Highlight the black frame layer.
add drop shadow (2, 2, 40, 3) (-2, -2, 40, 3)
Now, highlight your top merged tube layer
Add 3 new raster layers, transparency locked
Highlight your second new layer.
Eye Candy 5 nature, same settings, but hit the Random Seed button
Repeat with the remaining new layer
Rename your layers (flame 1, 2 and 3)
Add your copyright and license info
add name and any additional text
If you aren't going to animate, merge and save now :)
X out flame layers 2 and 3,
paste after current frame
paste after current frame
Animation>frame properties
View animation. If you're happy with it, save as gif
For the avi:
hide whatever layers you don't want on your avi
rearrange banner if needed
using your crop tool, crop a 150x150 section of banner
repeat same steps for frame except set selection borders to 4
once you have your avi how you want it,
add license and copyright info
Thank you for trying my tut. If you have any questions or would like me to post your results, please email me: bananas_68@yahoo.com