Tasha's Playground Fan Page

Find me on Facebook


Monday, February 28, 2011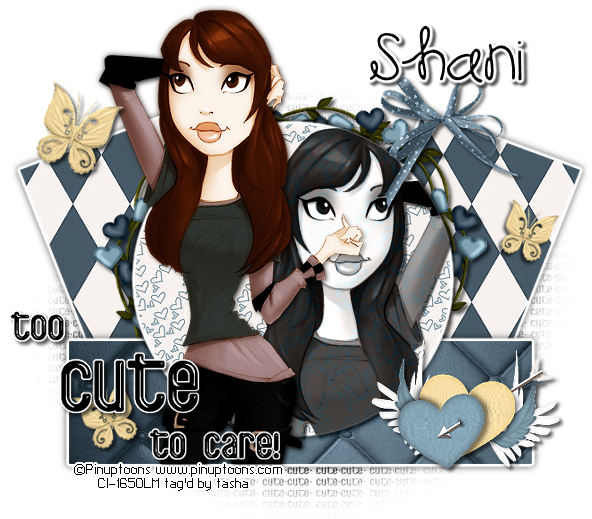 Template- "Too cute to care" template from my friend Sarah's blog
here
. She has some great stuff there!
Tube- I used a bonus PinUp Toon tube from when CILM was open. You can find the artwork
here
now.
Scrap kit- "Love Whispers" a PTU kit from WickedPrincessScraps. Visit her blog
here
for info on purchasing this awesome kit.
Plug ins- EyeCandy 4000- gradient glow & glass
Open template, shift+D to duplicate, close out original, delete copyright layer, raster 7, and copy of raster 7
Resize to 600 wide-all layers checked. Resize canvas if you want more room to work with.
Highlight Raster 3. Selections>Select All>Float>Defloat. Copy/paste paper 7. Selections>invert. hit delete on your keyboard. Deselect and delete original layer
Repeat the above steps using PP7 for copy of raster 3, PP1 for raster 4
When you do raster 2, before you deselect, paste a close up of your tube in the selection and hit delete.
Deselect, delete original layer.
On close up Adjust>sharpness>unsharp mask with these settings- radius: 43, strength: 25, clipping: 25, Luminance unchecked. Apply. Change blend mode to Luminance (L). Add a slight drop shadow.
On each of the layers I added a fat gradient glow (width 3) and a slight fuzzy drop shadow (0,0,50,10)
Add and place your elements, resizing and adding a drop shadow as you go
fancy glitter butterfly- rotate 20 degrees to the right, duplicate/resize, duplicate/resize/mirror
heart wreath frame- duplicate/mirror
Place main tube, duplicate. On the copy layer, Adjust>blur>gaussian blur, 3
change blend mode to Overlay, lower opacity to around 72. drop shadow original layer
add copyright and lisence info
add name, apply glass and add gradient glow
Hope you liked my tut, I'd love to see your results :)